Adena Friedman, chief executive of Nasdaq, said the migration of its first market to AWS is on track and that new clients of its market technology business are increasingly deploying software as a service (SaaS) solutions, rather than on-site installations.
Friedman said on the results call on 20 July: "We're quite excited about the progress we're making with AWS."
In November last year Nasdaq announced a multi-year partnership with AWS to migrate its North American markets to the cloud provider in a phased approach, starting with US options market Nasdaq MRX. Over the last 10 years Nasdaq has been moving its surrounding systems, that support trading, into a public cloud environment, but the trading systems themselves and the matching engines had been on-premise.
AWS has committed to create a private local zone within Nasdaq's primary Carteret data centre in New Jersey and Nasdaq MRX is due to migrate to the cloud in the fourth quarter of this year.
"We are on track with MRX and what we've been learning is really helping us make sure we're optimizing for power in the context of bringing the AWS infrastructure into the data centre while we build it out,"Friedman said. "Over the next two years we are going to be expanding the data centre with Equinix and expand our power as we work with AWS."
Equinix and AWS will be doubling both the size and the power of the data center, which is due to finish in 2024, and will make it easier for Nasdaq's clients to migrate to the cloud in the new AWS Local Zone. MRX will migrate to AWS Outposts and the new Fusion platform.
"We've moved MRX onto Fusion and tested that in an on-premise environment with clients as a baseline," Friedman added. "We will start testing with our clients in the new environment in the fall to make sure that we are delivering the same performance."
Friedman said SaaS revenue now comprises 35% of total company annual recurring revenue, which is a new high.
The market infrastructure technology business generated $56m in net revenues during the second quarter as the business has increased ability to work with clients on site. Specifically, Nasdaq completed phase one deliveries for all four of the largest implementations which are due by the end of the quarter.
New relationships announced during the quarter included Brazilian brokerage XP launching a trading platform for digital assets using Nasdaq technology deployed as a SaaS solution in the cloud. In addition Climate Impact X (CIX), a Singapore marketplace and exchange for carbon credits, will use cloud-based SaaS technology from Nasdaq to power its spot trading platform, which is due to launch in early 2023 for financial institutions and institutional investors.
Friedman continued that the overall sentiment from clients at Nasdaq's recent annual Technology of the Future conference was that they saw the advantages of cloud deployments as they contemplate shifts in their operating models and look for new ways to differentiate their offerings.
She added that most  new clients are signing SaaS-based contracts which are more scalable over the long term, although a lot of clients are still on premises.
"We are really encouraged by the SaaS orientation of the new sales," said Friedman.. "As we move forward and sign more clients in a SaaS format, we are going to have fewer change requests but more stable and more sticky revenues."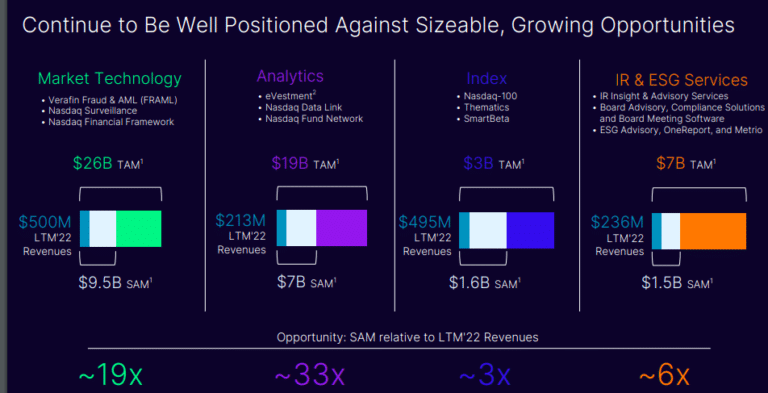 Financial performance
Friedman said markets, investors and corporate clients all experienced increased levels of volatility during the second quarter but Nasdaq's strategic vision and ability to execute remains clear. She added: "The strength and quality of our businesses puts us in an excellent position to navigate these dynamics."
Nasdaq reported record net revenue of $893m in the second quarter of this year, a 6% increase to the prior-year period, which Friedman said demonstrates the group's ability to capture new opportunities in different operating environments.
She highlighted the index business which had revenue growth of $17m, or 16%, versus the prior-year period. This was driven by positive net flows of $71bn over the last 12 months, including $25bn in the challenging market experienced in the first half of this year.
Market services segment had net revenues of $310m in the second quarter which Friedman said was due to maximizing opportunities presented by robust levels of activity through strong market share and consistent pricing strategies.
"The sheer volume traded on Nasdaq exchanges grew by 22% compared to the prior-year quarter," she added.
At the end of June Nasdaq closing cross set a record for the number of shares traded during the 2022 Russell US indexes reconstitution as 3.3 billion shares representing nearly $64bn were executed in two seconds across Nasdaq-listed securities, a 40% increase in shares crossed from last year's event.
"The new closing cross record is a testament to the investments we've made in our technology and the results of the trust the team has worked diligently to build with all investors including through some of the most volatile market periods on record," said Friedman.
In the Nordic and Baltic equities markets, the value of shares traded for the first half of 2022 was the second highest since 2008.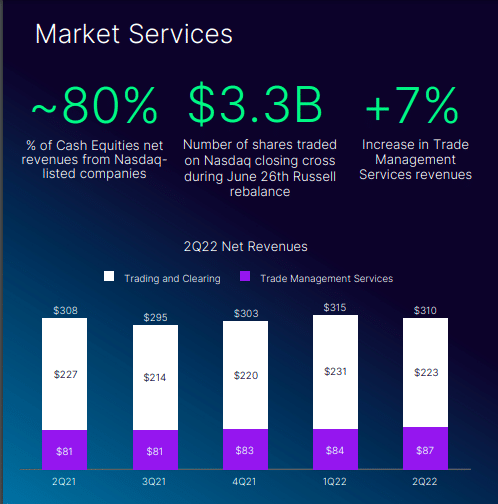 Friedman said that in the second half of 2022 Nasdaq will be focused on three pillars of liquidity, modernizing marketplaces through technology;  integrity through its anti-financial crime solution; and transparency.
Transparency involves executing on the opportunity to provide ESG solutions, specifically providing advisory services to corporates, along with data aggregation and reporting capabilities so they can communicate their ESG and climate strategies and progress to investors.
In June Nasdaq closed its acquisition of Metrio, which expands its corporate reporting ESG solution.
"ESG advisory is actually the highest demand part of the business, but more and more it's moving into reporting," said Friedman. "We're seeing more companies onboarding onto OneReport and Metrio for collecting and reporting ESG data out to the rating agencies, and that's going to be the long-term growth driver for us."
In addition, Nasdaq owns Puro.earth , a carbon removal marketplace in Europe, which is a small part of group revenues today.
"We see Puro.earth as a 10 to five-year plan to build out a really successful marketplace there," Friedman said.